Rice Meals
House-made and cooked when ordered. Served with garlic or steamed rice & egg. (Scrambled or two eggs add $1.50, Atchara (pickled papaya) $0.75) No MSG, preservatives, artificial flavors and colors. Alkaline water.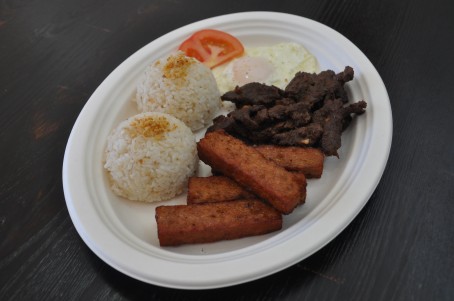 Ground Angus Beef (Giniling) or Organic Tofu
Pan sauteed with fresh broccoli, carrots, onions and bell peppers.

Chicken Sausage (Longanisa)
House-made sweet and spicy chicken sausage

Sweet Chicken (Tocino)
House-made marinated sweet spiced chicken

Beef Brisket (Corned Beef)
House-made savory pulled beef brisket hash

Tri-Tip Beef (Tapa)
House-made garlic soy marinated Tri-tip Beef.

Bangus (Milkfish)
Crispy marinated milkfish.

Combo Plate
Combination of two rice-meal meats. Choice of Tapa, Longanisa, Corned Beef, Tocino, Giniling and Bangus. Add 2.00 for Tapa or Bangus

Congee (Arroz Caldo)
Rice porridge with chicken, onion, garlic and ginger.